We now hav a new online competition entry system.  It's intended to be easy to use and this article is to give you some idea of what to expect.
The online entry system is for IMAC members.  If you are not a member then please join up, you get a number of benefits including much more from this site.
The system is accessed from the Competition menu by clicking on the 'Online Competition Entry' option.
 This will take you to the competition list page
This list shows all the current competitions, the date, format (duration) and entry information. Clicking on the name will take you to the competition details page
Here you can see all published information regarding the competition.  As per last year this might change as we approach the competition date (for example more accommodation details). The page is split into three 'tabs', and you can check your entry to the competition using the 'Your Entry' tab. Clicking on this will show the current state of your entry to the competition (which will be one of can't enter yet, enter now, entered).
If you have not entered and the competition is now open for entry you will be given the option to enter as show above. Pick your class and click the Now button. Note that if you get promoted after entering the competition secretary can change your class through the administration section of the web site.
If after entering you return to the list you will see you are now entered for the competition.  The details page also gives you a list of all the entries for the competition so you can see who else is competing:
Once you have submitted your entry online you need to send you money to the competition secretary who on receipt will confirm your entry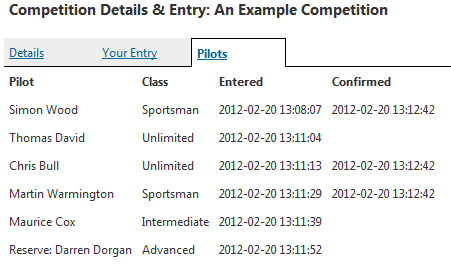 If more entries are received than spaces avaialble you will be shown as a reserve entry and will be contacted if somebody drops out.  If you need to drop out of a competition you need to let the competition secretary known to remove your entry and free up the space.