IMAC UK - The fun never stops!
In the last edition of BMFA News I wrote about the enormous fun we had at a competition in Italy. Well by all accounts our August competition at Clitheroe Lancashire achieved a still higher level in the "fun ratings" here in the UK. I wasn't able to attend Clitheroe so one of our members, Dan Gallo, an "Unlimited Class" pilot gives his account of the two days:
"This years' IMAC contest at the Edisford Model Flying Group's field, Clitheroe, was the most enjoyable contest yet. Fourteen pilots were present flying four known rounds and one unknown over the course of the weekend. Freestyle was also flown on Saturday after the sequence flying had finished for the day.
Pilots came from England, Scotland, Ireland, Wales and Australia (Dan Carroll) and their respective flags were set up near the podium. Brian Horn organised the event and was also Contest Director (CD). Brian put in a huge amount of thought and effort to make this contest a special one.
The competition result in unlimited class was a close call between current IMAC UK Champ Angus Balfour and Thomas David, just 80 points behind and Malcolm Balfour following up in third place. Dan Gallo came fourth, with Chris Bull fifth flying his freestyle plane after a fuel tank issue with his sequence model. Advanced was also very well flown and a close contest. Mal Green took the win, followed by Phil Hoyle and Allan Griffiths – each pilot took round wins so advanced class is very competitive. CD Brian came fourth flying in addition to running the contest, no small achievement! Intermediate Class was won by Chris Hughes who narrowly took the win from our Aussie friend and visitor Dan Carroll who flew exceptionally well on Tom's spare plane. Tom Laird settled for third place and improved on the second day of the contest. Sportsman is again a competitive class with David Staley taking first and Aaron Haigh in his first contest achieving second place.
Freestyle was great fun too. Thomas David flew very well in his own style only to suffer an engine failure to "zero" the flight. Dan Gallo came first, Chris Bull second and Mal Green third. Different soundtracks and moves prove that anyone can take part in freestyle and enjoy it. What more could you ask for, a day of precision flying followed by letting loose flying freestyle?!
The Dave Hulme memorial trophy (specific to the Clitheroe contest) was won by Angus with the highest percentage score. This trophy is very sought after among IMAC pilots with names on the trophy dating from 1990!
Brian kept everything moving with rolling flights during each round, so the contest feel was there and everyone had to be ready to go. The breakfasts and evening BBQ's on site provided by Andrew were delicious and most welcome. Everybody contributed to make this a very successful event and thanks go to all present, both pilots and families"
Dan's enthusiastic write-up of the great time had by everyone at Clitheroe reflects brilliantly how much there is to enjoy in IMAC.
If you'd like to experience the fun with us, find out more about scale aerobatics and develop your flying, have a look at our website imacuk.org

Barry White

A gimpse of preparations

Advance winners, Mal, Phil, Allan

Angus Balfour receives the Dave Hulme Memorial Trophy from IMAC Chairman Phil Hoyle

Freestyle Winners Dan Gallo, Chris Bull , Mal Green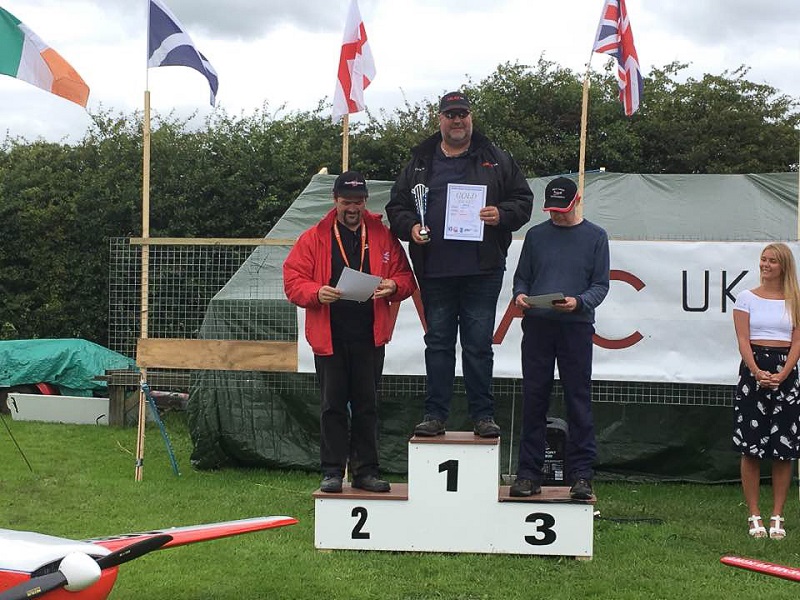 Intermediate winners Chris Hughes, Dan Carroll, Tom Laird

iPad score scrutiny...!

No caption necessary

Sportsman winners David Staley, Aaron Haigh

The Finale

'though Brian's busy, no stop to laughter!

Time to relax

Unlimited winners Angus Balfour,Thomas David (Tom) Malcolm Balfour