Fun Galore - The Italian Cup!
During the week beginning May 23rd 2016, members of IMAC UK, with friends and family, and 32 other pilots from 8 countries met at Caorle airfield, near the Adriatic Coast not far from Venice. This was only the second time anyone from the UK had ventured to Caorle to take part in an IMAC competition; this year the first ever IMAC Italian Cup.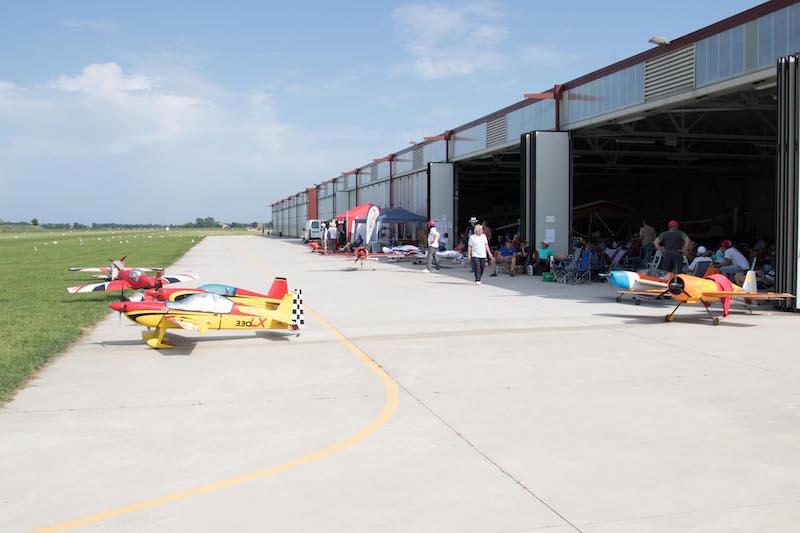 How's this for an airfield? Flight line two is somewhere in the distance.
I am grateful to organiser Manrico Mincuzzi for the following information on IMAC ITALIA .
IMAC was introduced into Italy in 2015. IMAC ITALIA is managed by Campionato Cisalpino, a non profit organisation active since 1994. It was privately created by a large group of Italian independent air modellers passionately interested in model aerobatics. Operating outside FAI and the Italian Aeroclub and therefore funded on a private basis, the organisation previously arranged championships for the F3A class, dedicated to the development of young Pilots who, in many cases, have then entered the official FAI circuit. Their best success case has been Marco Mazzucchelli, a young Pilot trained from seven years of age. Marco recently made 6th at the F3A world championship in South Africa and 7th at the last F3A World Championship in Switzerland. The support of Wayne Matthews, liaison for IMAC's International operations, and approximately thirty engaged partners of Campionato Cisalpine were all key to bringing IMAC to Italy,
In 2015 IMAC ITALIA organised its first large event in Bergamo, with about 35 Pilots from 10 Countries on one flight line. Thanks to this initial experience and availability of AliCaorle airfield with help from Mauro di Biaggio, manager of the airfield, the organisation took the risk of organising the first IMAC ITALIAN CUP.
Manrico Mincuzzi has considerable experience not only flying aerobatic models but also as a National and International F3A and F3M Championship Judge. In 2012 Manrico "graduated" from that system to IMAC which, being run by pilots and enthusiasts, is considered a less bureaucratic discipline with a good healthy culture. In 2014 Manrico was invited to judge at the first IMAC World Championship at Muncie USA and also judged at the last Tuscon Aerobatic Shootout in Arizona.
Like me, Manrico loves the thrill of using petrol engines powering large scale aerobatic planes.
In 2017, IMAC ITALIA plans to support the Austrians in organising a large event in Austria and they will all try to attend from Italy. For 2018 they are also preparing to participate at the IMAC World competition with a team of at least 10 Pilots. Then, in 2019, they intend to again organise the IMAC ITALIAN CUP with the aim of winning the Cup back from the Austrians!
Manrico has described the ITALIAN CUP as a reasonable success, but I think this is an understatement. For the first time in ITALY, if not Europe, pilots competed on two simultaneous flight lines with partly shared airspace. While the flight-lines were not as closely situated as in the USA during the World Championship it was nevertheless a bold initiative. Of course, nothing is so good that it cannot be improved and I have no doubt the organisers will take into account any and all feedback on the competition for the future.
The Competition
Firstly, getting there.
Needless to say, after the let down by KLM for the Worlds in 2014, and as usual, self funded everyone travelling from the UK decided to get their planes to Caorle by road transport, not by air! We all drove by various routes and being a long way some of us also managed to add on some sight seeing.
Our Pilots were;
Sportsman: David Staley, Barry White
Advanced: Steve Hartley, Phil Hoyle, Allan Griffiths, Mal Green, Brian Horn
Unlimited: Thomas David (Tom) Adi Kochav
We all used our own planes with the exception of our good friend Adi who came by air from Israel and was lent a Carden 118" by Tom. Back home Adi flies the Krill LX
The Airfield of Caorle, not far from the Adriatic coast, is outstanding - one of the best airfields I have seen and flown at. Home of Volo al Mare Flight Club, it has excellent facilities including a very large hangar which was partly vacated by a variety of full size aircraft for the duration of the competition to allow us to leave our planes in the hangar overnight. It also has a very comfortable club house providing light meals & snacks.
An up front bonus was the fact that we were able to get in practice over two days before the competition which started on the Friday.
Once practice started the queue to get airborne quickly got long with almost 20 planes in line…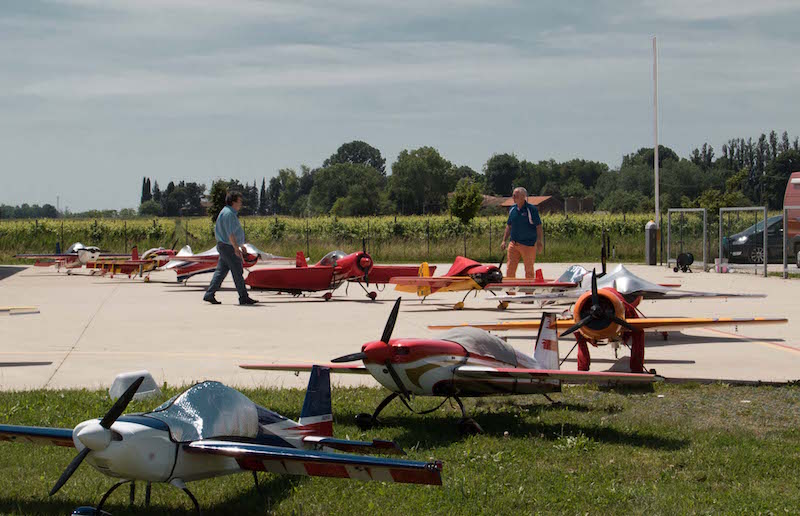 Some queue!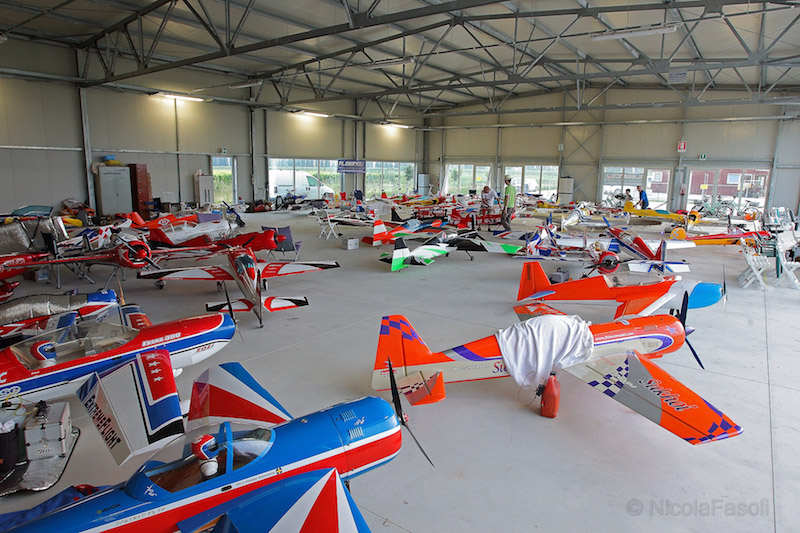 Great hangar, superb planes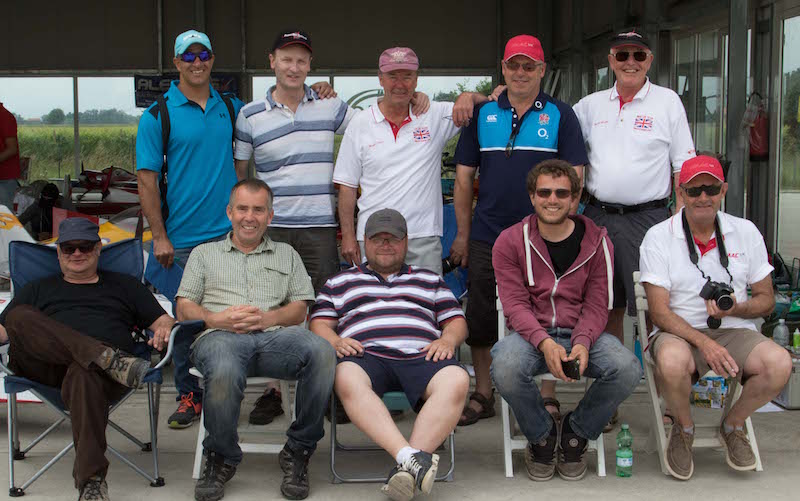 UK Boys with our good friend Adi
The competition was scheduled over three days, May 27,28,29.
Day 1, Due to early morning mist, "wheels up" was delayed but glorious sunshine soon broke through and lasted all day. Three Known rounds were flown by all.
Day 2, Two more Knowns and 1 Unknown were flown. This was then followed by a World Class Freestyle competition, all to Pilots own choice of music!
Day 3, Scheduled as Sunday morning only, another brilliant Freestyle competition after which looming thunder stopped play a bit early only allowing time for Unlimited to fly their Unknown.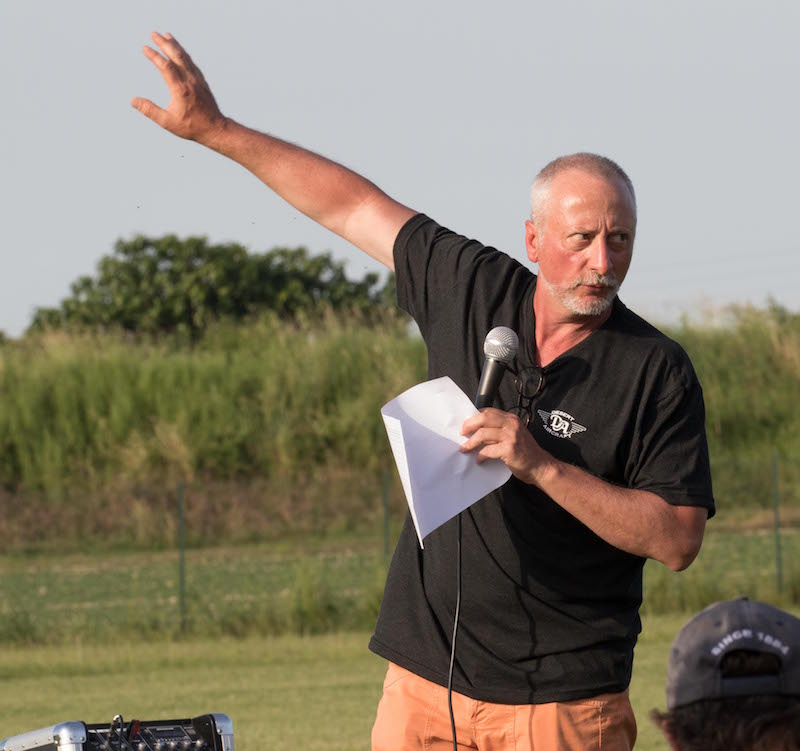 Manrico briefs everyone before freestyle.
On all days and at all times I was impressed by the imagination and high standard of flying shown by very young pilots and the support and encouragement given to them by their families.
IMAC is unique in its ageless approach to IMAC scale aerobatics worldwide. With permission from his Mum and Dad I mention here Cristian Fierabracci, only 9 years of age. Cristian began flying when only 3 and a half years old, at the airfield ICARO, near the city of Latina, where the family currently lives. As well as model airplanes, he loves planes of the first and second world war (the stickers on his Extra are dedicated to the Lafayette Squadron)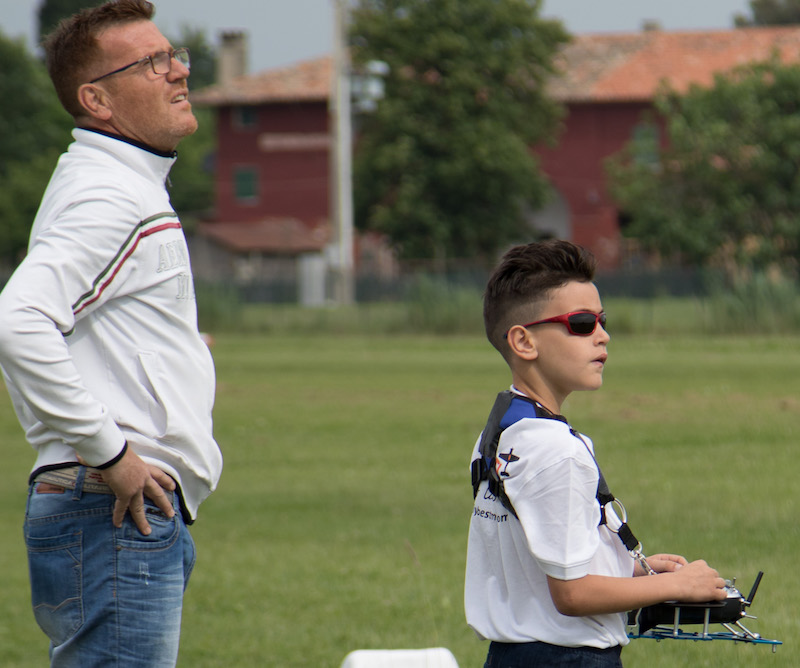 Cristian Fierabracci and his "caller", could this be his Dad?
Cristian even younger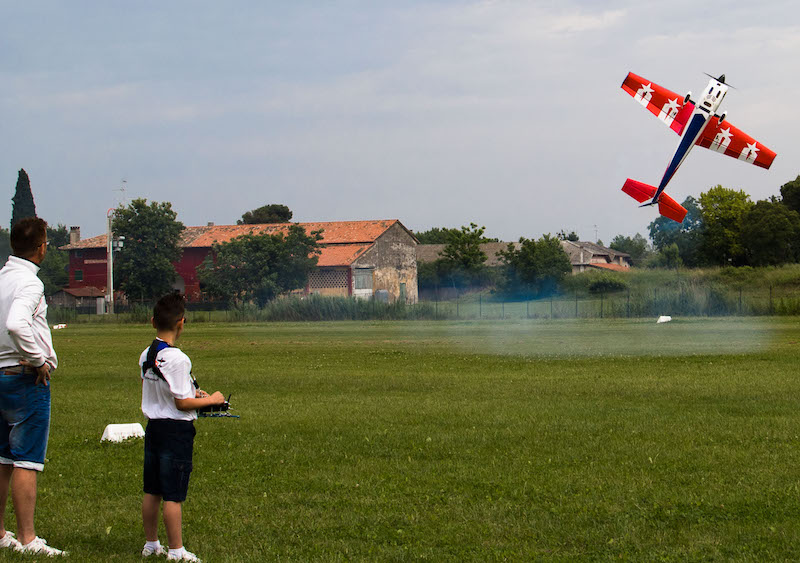 Cristian shows us how….
More brilliant freestyle from a youngster.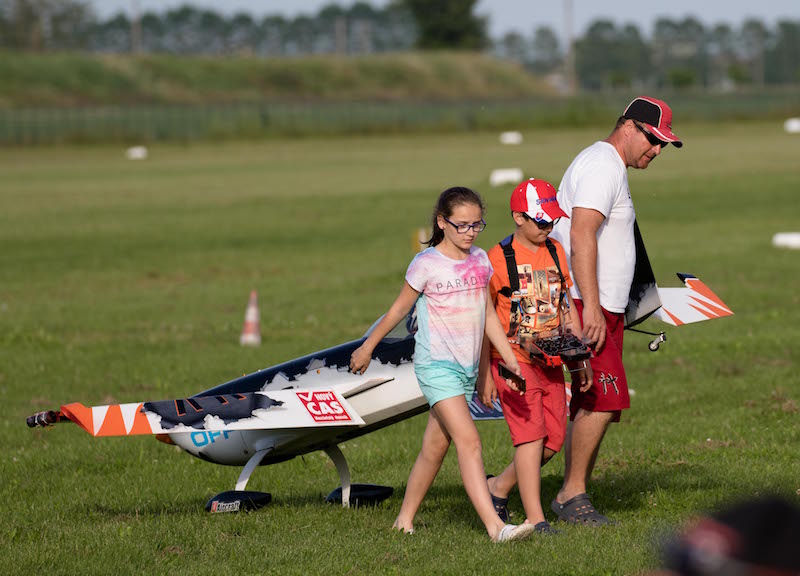 Family proudly help back to the pits
It might be slightly "off topic" but I make no excuse for featuring such young pilots in this article. I think it shows a big cultural difference and willingness to spend money on flying model aircraft, whether on the planes or site facilities and the development of young pilots when compared to other countries. The point about expenditure on flying site facilities was well made by BMFA Development Officer Manny Williamson in issue 136 of BMFA News, page 3 of Chatsfield Chat; topic 'We get what we pay for".
In the USA IMAC has gone to some lengths to encourage youngsters with their Youth Masters programme which can be seen under the IMAC USA website mini-iac.com. In Italy it was equally clear that the attention and support given to youngsters is also getting great results.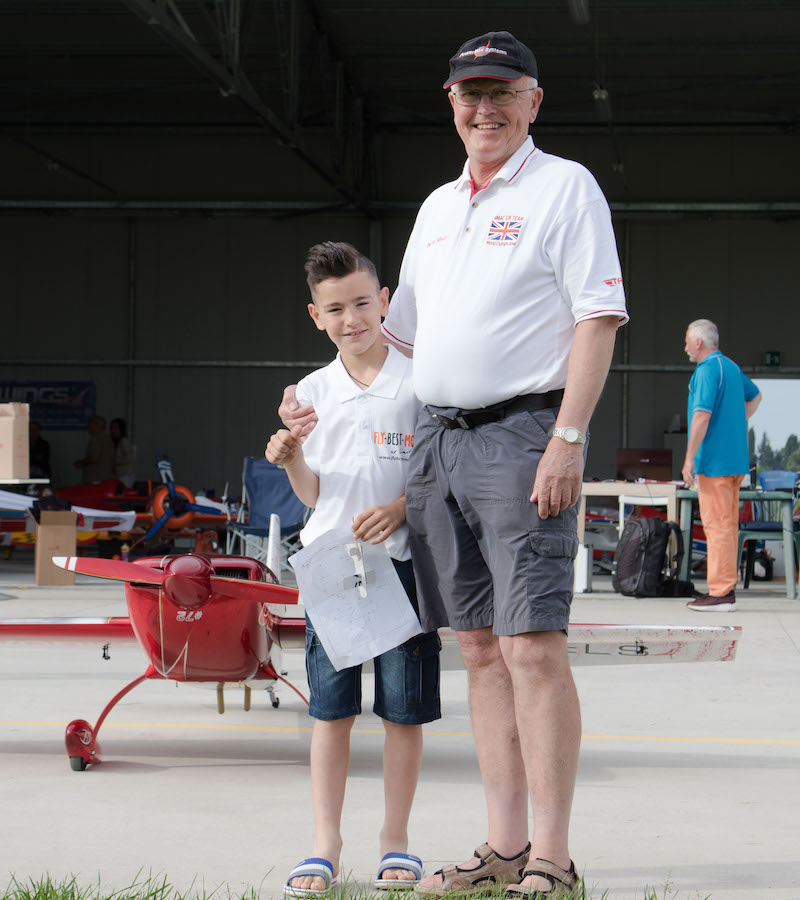 Cristian, proudly with his stick plane and calling card. If he was the youngest, I guess I'm the oldest!
Gernot shows us how to do freestyle, get those throws…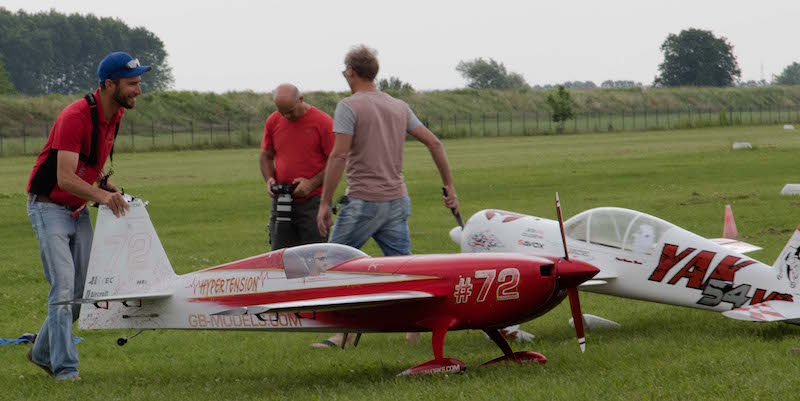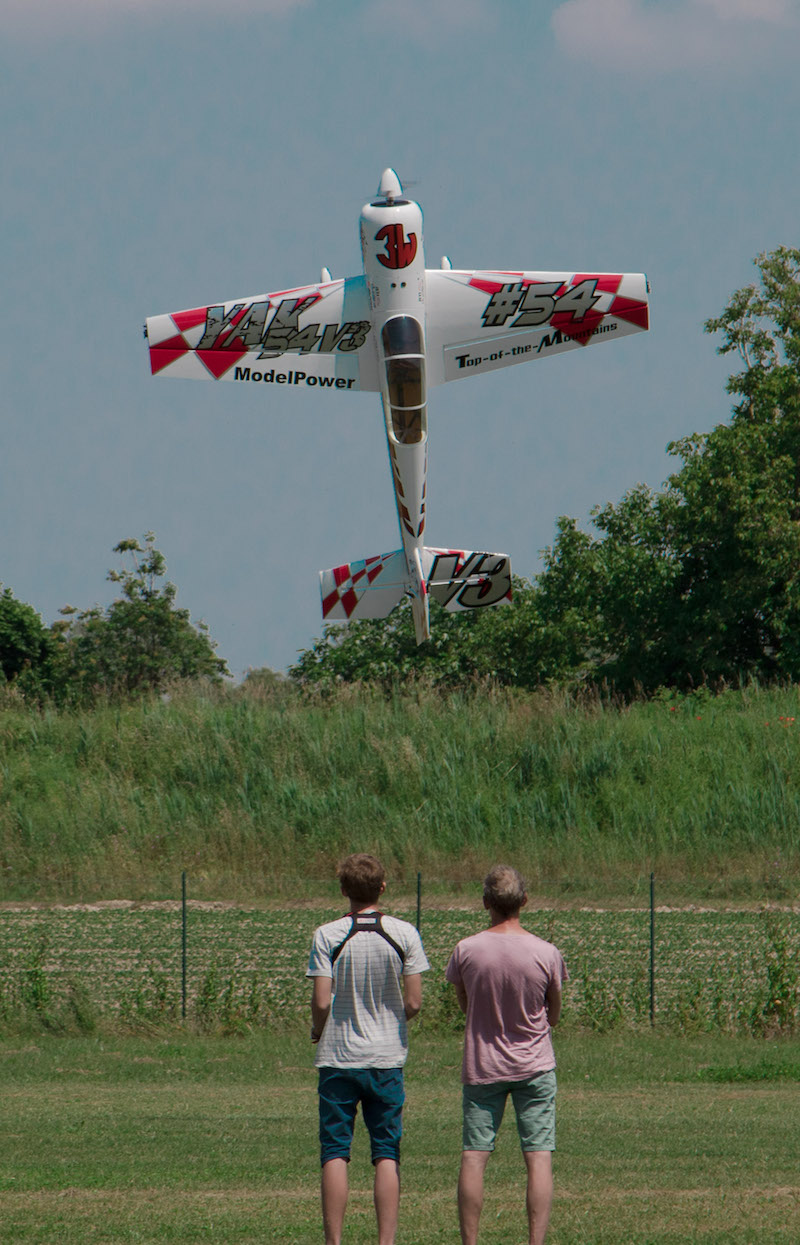 Austrians in action!
An exceptional highlight of the event was the full size aerobatic display performed by Mauro di Baggio a famous aerobatic pilot who flew spectacular manoeuvres in his Pitts Special on the first two days after the IMAC competitions. To say this was hair raising would be to put it mildly. The photo gives only some idea of how it was….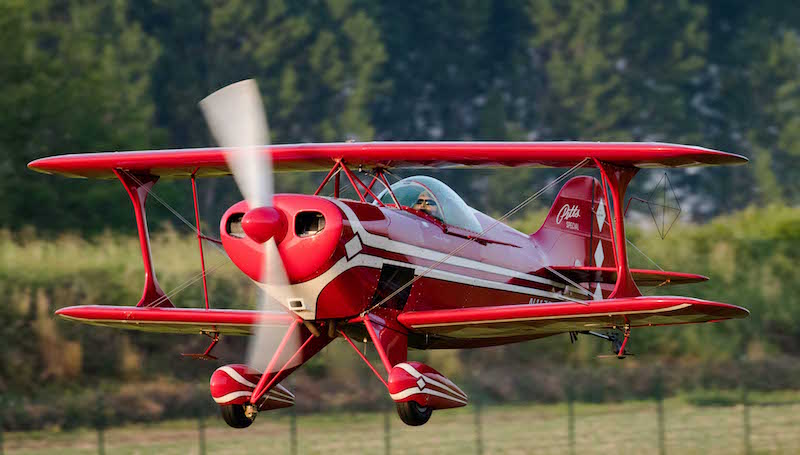 The "sticks" in action got a lot bigger!
Competition results, UK places:
As expected we found ourselves competing against a very high standard. Nevertheless, in Advanced Class; Steve Hartley won 2nd place and Phil Hoyle 3rd, Interestingly this class was dominated by the UK.
In both Freestyle and Unlimited Classes Gernot Bruckmann won first place and as Manrico already wrote, the Austrian Team won the team prize and the Cup. Congratulations!!!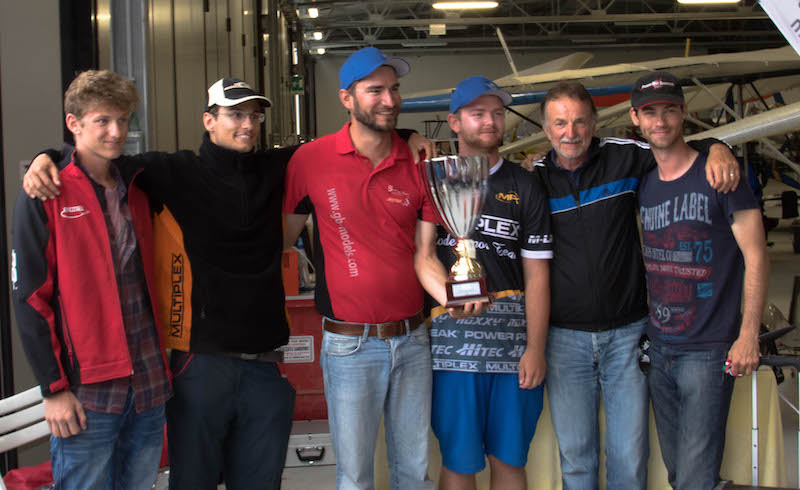 Austrian Champions.
The "Fun Element" shone through the whole time, as typified by Brian receiving his Medal from the aerobatic pilot Mauro di Baggio….!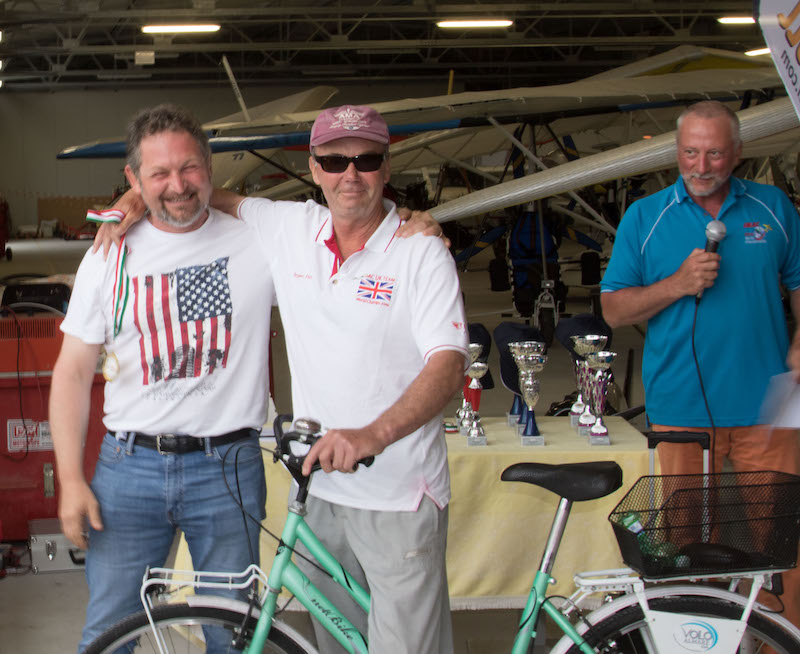 Brian drops in!
Overall impression; Great, brilliant freestyle, unbelievable fun.. !
If you're interested to find out more about scale aerobatics, develop your
flying and join in the fun, have a look at our website imacuk.org